What are Subtables?
Subtables are extremely useful for handling one-to-many relationships in your form. For example, you might have a customer account with multiple contacts and multiple contact history that you would like to record. Or you might need to record multiple items in a purchase order or quotation. Subtables are everywhere in business applications, and Ragic provides the easiest way for you to create forms to manage them.
Creating Subtables
You can create a subtable simply by lining up the fields horizontally while you are in the Design Mode. Please note that the field headers should be right next to each other, you can start typing in the cell to place a field header while disregarding where the field value of the previous field would be. This will shift where the field values will be displayed below the field headers.
It's recommended to put your subtables at the bottom in your sheet design, since the subtable row will extend when containing more than 3 rows. And it's also not recommended to have different subtables designed in the same row for the same reason.
For a more detailed explanation about the creation process, please see our video tutorial below.
To learn how to move subtable fields, please refer to this article.
Entering Data into Subtables
In this subtable, your users can enter many sub-entries that belongs to the main form entry. The subtable will initially have three empty rows shown to the user, and as they are filling more entries, more rows will appear.
Filtering and Sorting in Subtables
In some cases, you might want to filter or sort records in your subtables. This can be done by clicking on the arrow next to the field headers of your subtable to filter or sort the results displayed.
Filtering your subtable records
You can use the "Filter by text" option to filter your subtable. If the field is a selection field or a multiple selection field, you can also choose one of the selection options to filter results.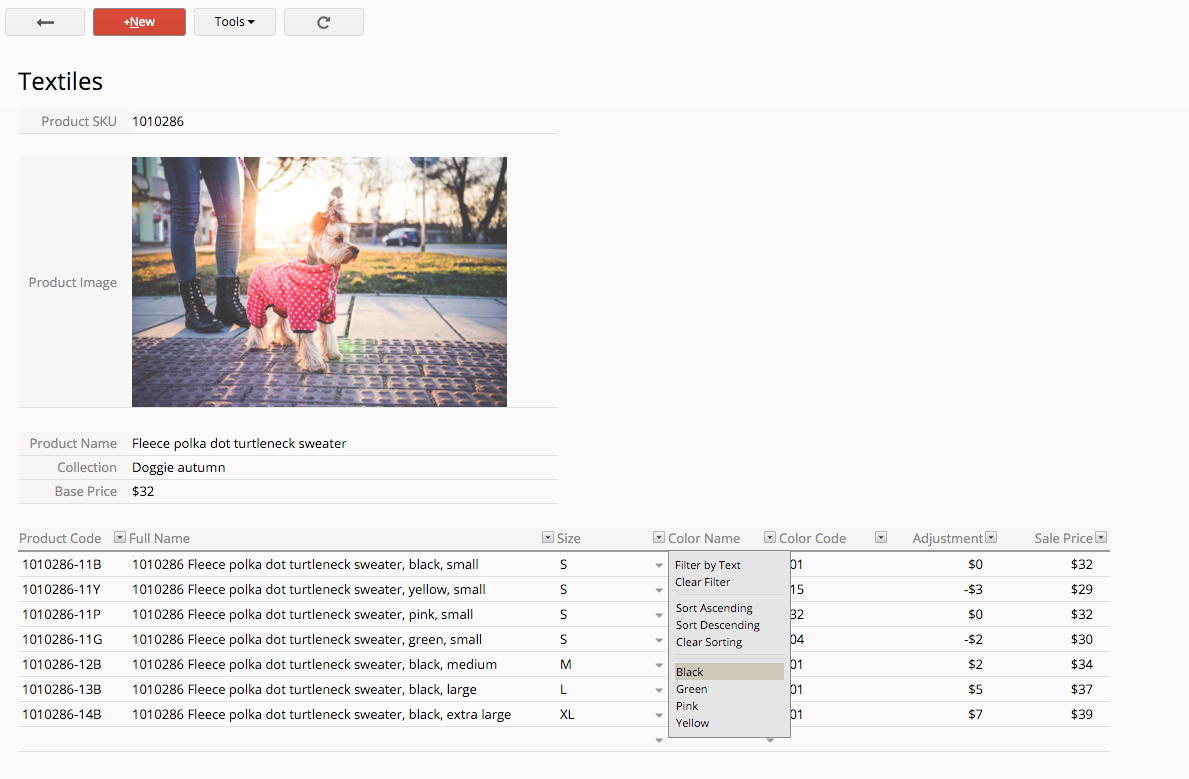 The filters applied can be cleared with the "Clear Filters" button on the top of your page, or the "Clear Filter" option through the arrows next to the field headers.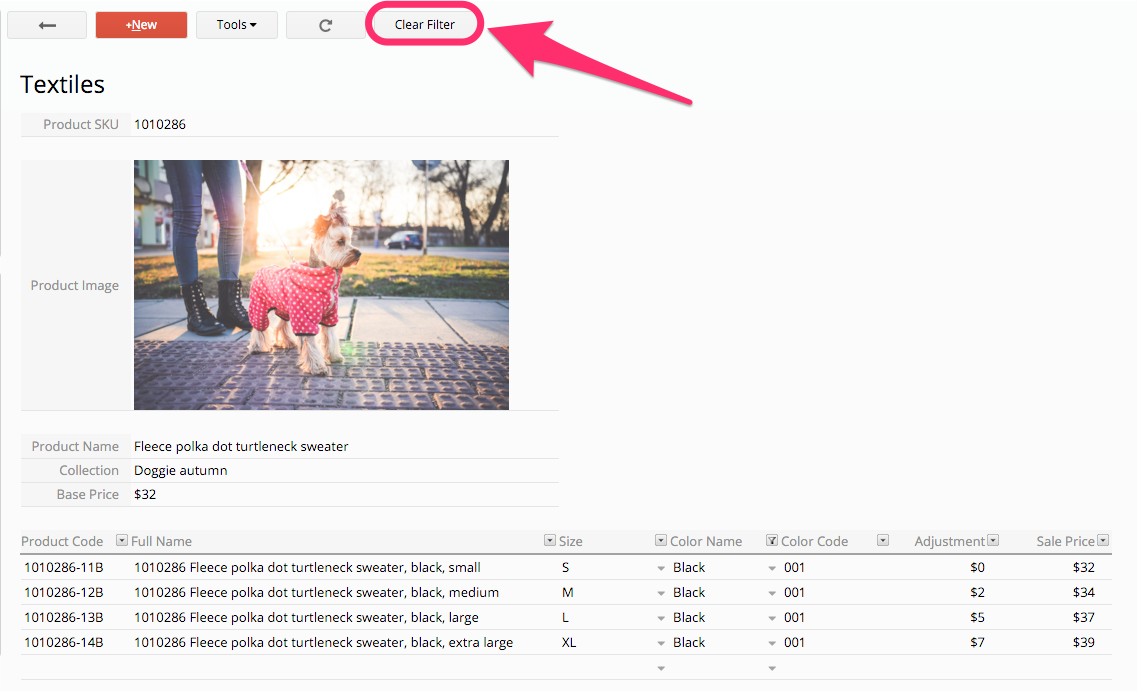 Setting a default filter to a subtable
You also have the option to set a default filter to subtables in order to view this filter whenever you are viewing entries.
To set a default filter, click the "Save filter as default" option under the options accessible from the arrow next to the field headers.

Default filters can be cleared via the "Remove subtable default filter" option.
Sorting the order of your subtable records
Options include sorting ascending or descending.


Sorting applied to the subtable can be cleared via the "Clear sorting" option through the arrow next to the field header you're applying the sorting from.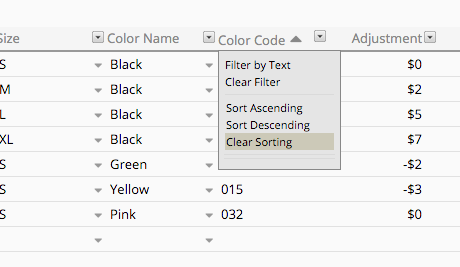 Exporting Data from your Subtables
The best way to export data from your subtables is through create new sheet from subtable:
1. Create a new sheet from your subtable with this linking type, this will generate a new sheet with all your subtable values from all of your entries in that subtable, spanning different records.
2. Add other necessary fields If necessary, you can add stand-alone fields from your parent sheet with the link fields from parent sheets method. This way you can export your subtable data with other fields that are related.
3. Export your data from your new sheet Exporting data from the new sheet is just like exporting from a regular sheet.
More about Subtables
You can use formulas to make calculations in subtables.
When you have tons of entries in your subtables, you can consider creating a new sheet from this subtable that will display each subtable entry you saved. The form will load slower if you have more than hundreds of entries in a subtable, and in this case we would recommend managing the records from the new sheet created from this subtable.
Video Tutorial: Creating a Subtable
Here is a video tutorial showing how you can create a new subtable on your form.